Ireland's Department of Transport has been recognised as a Gold Level Cycle-Friendly Employer (CFE) by Cycling Solutions Ireland, the country's national CFE Coordinator. It is Ireland's first Government Department to receive the award, with several others working towards certification.
The Cycle-Friendly Employer Certification Framework establishes a European standard for bicycle-friendliness in the European workplace.  Since its launch in 2018, the CFE Consortium has expanded its representation across Europe, with Ireland joining the implementing countries in 2020. The certification is currently being implemented in fourteen countries across Europe, with well over three hundred employers already certified as Cycle-Friendly.
"I believe the Public Service has a significant role to play as sustainability leaders, supporting more of us to cycle to work and to meetings," said Irish Minister for Transport Eamon Ryan TD (pictured above). "This gold standard accreditation highlights the Department of Transport's own strong ethos and commitment to reducing our transport-related carbon emissions as we work towards realising the targets outlined in the Climate Action Plan."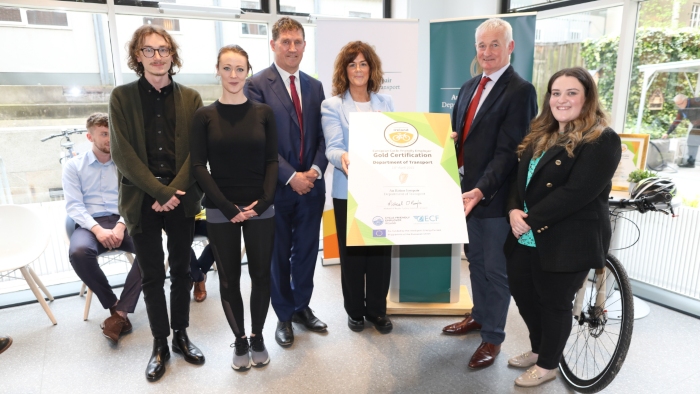 The Irish Department of Transport was recognised following an audit across a number of areas, with improvements made to its facilities (such as showers, drying rooms, bike parking and maintenance stands) and the development of a new intranet site, CycleHub, to encourage information sharing and interaction among cyclists in the Department. A number of educational and promotional initiatives for staff and visitors to the Department will also drive participation in cycling.
The award follows the Department's recent launch of the new National Sustainable Mobility Policy which will make it easier for people to walk, cycle or take public transport daily and reduce the reliance on petrol or diesel cars. As Ireland looks to cut its carbon emissions in half by 2030, the policy's action plan outlines ways to improve and expand sustainable mobility options across the country by providing safe, green and accessible alternatives to car journeys. The policy includes an action to promote the uptake of the CFE Certification in workplaces.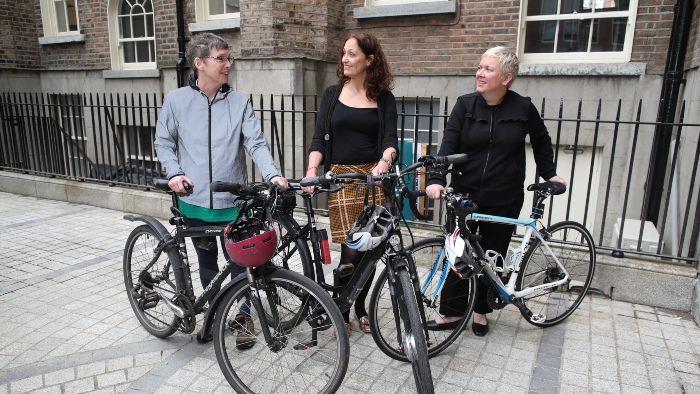 "The Department has been recognised as leading the way to a green and sustainable workplace," said Minister of State Hildegarde Naughton TD. "Cycling is an environmentally friendly way to commute to work and it is one of the best ways to reduce our carbon emissions. Sustainable mobility is not only critical to the climate agenda but is also offers an opportunity to improve employee wellbeing and I would encourage other public and private bodies to work towards accreditation."
CFE Certification is suitable for all companies and organisations of all sizes, and is also available to hospitality providers (hotels, hostels, B&Bs, cafes) who wish to prepare for the forecasted growth in cycling tourism.
"We're delighted to award gold cycle-friendly accreditation to the Department of Transport," said Michael O'Boyle, CEO of Cycling Solutions Ireland. "The goal of the CFE programme is to enable and encourage employees to choose the bike over the car and the Department of Transport, along with other Government Departments, is leading the way to decarbonising the workplace. The new National Sustainable Mobility Policy will help employers to reduce carbon emissions and improve employees' health and well-being and we're proud to be working with the Department, the National Transport Authority and our European colleagues to create a carbon-neutral future."
---
For more information about the Irish Department of Transport, visit gov.ie/transport.
For more on the CFE Certification in Ireland, visit cyclingsolutionsireland.ie.
For more on how to join the CFE Consortium, visit ecf.com/who-we-are/vacancies-tenders.