What does the future hold for Dublin as a cycling city? On Friday 23 September, ECF CEO Jill Warren was a keynote speaker at Cycling Solutions Ireland's "Business of Cycling" event at the Custom House in Dublin, where she awarded the Irish Department of Housing, Local Government and Heritage and Philip Lee LLP with a gold Cycle-Friendly Employer (CFE) certification.
"Solidifying our Department's role as a leader in driving sustainable travel behaviours comes at an important time, when promoting sustainable travel in the face of increasing energy costs is imperative," stated Graham Doyle, Secretary General of the Department.
In the past years, the Department has been raising awareness for cycling safety and benefits and encouraging its employees to choose the bicycle as their principal sustainable and active means of transport, thus taking a proactive part in reducing carbon emissions and improving employees' physical and mental health and well-being. The Department commemorated their achievement by also signing a Smarter Travel Charter with the National Transport Authority, representing their commitment to promoting and encouraging staff to sustainably and actively commute.
As part of her speech, Warren shared ECF's 2030 strategy, focusing on increasing cycling levels in the EU of 50% by 2030 and on the urgency with which immediate action must be taken in order to reduce the number of cyclists killed or seriously injured on the roads each year.
Ireland's commitment to active and sustainable travel was firmly acknowledged and appreciated by Warren, who urged the present businesses and organisations from the private and public sector to take part in and support CFE in Ireland.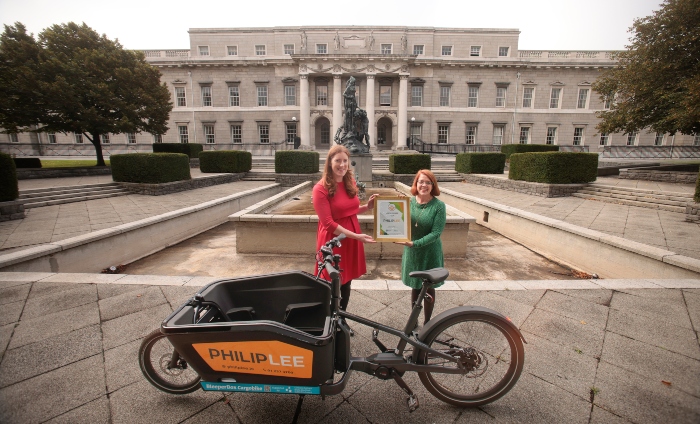 Small steps can make big differences
Attendees at the event included many organisations that encourage and promote daily cycling when commuting to work. Among these was Philip Lee LLP, the first Irish law firm to achieve a CFE award by encouraging to its employees to take one step at a time towards healthier and more sustainable modes of transport.
Maeve Delargy, representing Philip Lee, shared her vision for a cycle-friendly future, advocating for consistency over perfection by pointing to the fact that small actions, when performed frequently and regularly, make a great difference in terms of health and environmental improvement.
"Any action is better than no action and you don't have to whizz around town on your bike, you can tootle around and that's just as good. Every journey you take by bike is a win," said Delargy.
Ger Corbett, CEO of Sandyford Business District, expressed his positive conviction that even big inanimate spaces such as theirs can be cycle friendly, regardless of their number of employees. He endorsed Delargy's comment on the need to take one step at a time to achieve great results, emphasising that "behavioural change is needed in Ireland".
So, what does the future hold for Dublin as a cycling city? One thing is sure: a momentous increase in cycle-friendly businesses lies ahead for the Emerald Isle's capital.
---
For more information on the CFE Certification in Ireland, visit cyclingsolutionsireland.ie/
For more information on how to join the CFE Consortium, visit ecf.com/community/cycle-friendly-employers-consortium/